HEAD: Clean-cut, strong, dry and in proportion to the body. The topskull is flat to slightly rounded, its length and width each equal to the length of the muzzle which is in balance and proportioned to the rest of the head. The muzzle tapers slightly to a rounded tip. The stop is moderate but well-defined.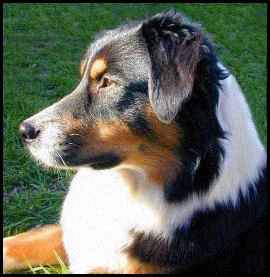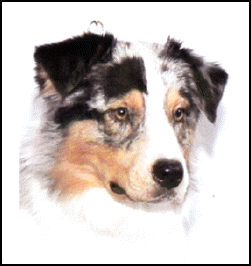 Magic, Kel


(A) TEETH: A full compliment of strong, white teeth meet in a scissors bite. An even bite is a fault. Teeth broken or missing by accident are not penalized.
Disqualifications: Undershot bites; overshot bites exceeding 1/8 inches.
(B) EYES: Very expressive, showing attentiveness and intelligence. Clear, almond-shaped, and of moderate size, set a little obliquely, neither prominent nor sunken, with pupils dark, well-defined and perfectly positioned. Color is brown, blue, amber, or any variation or combination including flecks and marbling.
(C) EARS: Set on high at the side of the head, triangular and slightly rounded at the tip, of moderate size with length measured by bringing the tip of the ear around to the inside corner of the eye. The ears, at full attention, break slightly forward and over from one- quarter (1/4) to one-half (1/2) above the base. Prick ears and hound type ears are severe faults.